Climate Heroes Fund
Supporting urgent climate action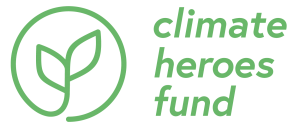 The Climate Heroes Fund is a Donor Advised Fund (DAF) hosted at MakeWay. A DAF is a simple and efficient alternative to creating a charitable foundation so that funding can reach climate leaders as quickly as possible.
Net proceeds generated through the Cause Heroes contest will be transferred to the Climate Heroes Fund, where MakeWay will manage the fund's grantmaking. The Climate Heroes Fund is designed to support community-led transformation and systems change initiatives to combat climate change and its impacts.
The Climate Heroes Fund will provide unrestricted grants to community initiatives that help advance Goal 13: Climate Action of the UN Sustainable Development Goals.
MakeWay will accept applications from initiatives that work to advance one or both of the following UN Targets:
Strengthen resilience and adaptive capacity to climate-related hazards and natural disasters in all countries
Improve education, awareness-raising and human and institutional capacity on climate change mitigation, adaptation, impact reduction and early warning
More details to come soon on the grantmaking application and guidelines. In the meantime, if you would like to express interest in applying, please contact Antonia Taylor.


About Cause Heroes
Cause Heroes is the official host and owner of the contest. Cause Heroes will direct 100% of net proceeds from raffle ticket sales to the Climate Heroes Fund at MakeWay. Cause Heroes will make a minimum contribution of $5,000 to the Climate Heroes Fund for charitable grantmaking, with a goal to reach $250,000. Charitable tax receipts will not be provided to the contestants or Cause Heroes.
About MakeWay
MakeWay is a national public foundation that builds partnerships and solutions to help nature and communities thrive together. MakeWay's work aligns with the SDGs, and we are proud to participate in this international effort to align local community-led transformation through to global systems change. Like MakeWay's approach, the SDGs integrate social, environmental, and economic dimensions for lasting solutions.