News and Views
Media
News and articles on our work.
Tides Canada welcomes Aerin Jacob and Denise Williams to Board of Directors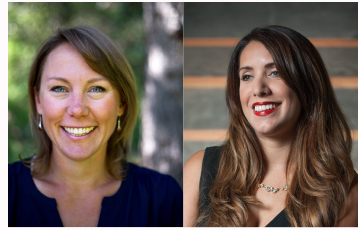 Vancouver, BC – Tides Canada today announced the appointments of Aerin Jacob and Denise Williams to its Board of Directors.
Denise Williams is Chief Executive Officer of the First Nations Technology Council, and a member of Cowichan Tribes. Dr. Aerin Jacob is a Conservation Scientist at the Yellowstone to Yukon Conservation Initiative.
"Aerin and Denise bring invaluable leadership expertise in the fields of technology and innovation, conservation planning, and policy engagement. These skills will be great assets to the Board and for Tides Canada's work to solve some of the country's most complex environmental and social issues," said Andrew Heintzman, Chair of the Board.
Denise works at the intersection of Indigenous sovereignty, technological advancement, and a rapidly expanding technology and innovation economy. With the First Nations Technology Council, Denise collaborates with Indigenous peoples, governments, academics, technology futurists, and social change makers to spark innovation and ensure fair and equitable access to the tools and education required for success in the digital age. A champion for the advancement of truth and reconciliation, Denise serves as the President of the Urban Native Youth Association and as advisor on innovation to the Governor General of Canada, Status of Women Canada's Indigenous Women's Circle. She also sits on the Board of the First Mile Connectivity Consortium, Vancouver Economic Commission, and the Simon Fraser University Board of Governors.
Aerin works with government, industry, community groups, and scientists to find conservation solutions that work for all parties. At the Yellowstone to Yukon Conservation Initiative, she conducts and communicates applied scientific research to inform management, policy, and conservation decisions. Her work spans research, teaching, and consulting across North America, East Africa, and Central America. She is an advocate for a more independent and rigorous system of environmental assessment in Canada. And, as an advocate for diversity in science, is active in outreach via public lectures, storytelling, and media and policy engagement. Aerin serves on the Board of the Society for Conservation Biology North America and was a recipient of the Liber Ero Fellowship, a scholar with the Sustainable Canada Dialogues, a Wilburforce Fellow in Conservation Science, and served on the Pathway to Canada Target 1 expert task team on biodiversity and ecosystem services.
"I am thrilled to welcome these incredible leaders to the organization." said Joanna Kerr, Tides Canada's newly appointed President and CEO. "I look forward to learning from them and the entire Board of Directors as I begin my journey here at Tides Canada to achieve even more impact."