News and Views
Media
News and articles on our work.
Tides Canada welcomes Orit Sarfaty and Ivan Thompson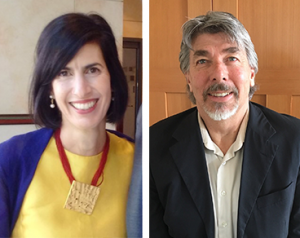 Tides Canada is pleased to announce the appointment of Orit Sarfaty as Director, Strategic Programs, and Ivan Thompson as Senior Advisor, Pacific Region.
Orit will oversee the organization's Strategic Programs team with a focus on program assessment and development. Ivan will contribute to strategic grantmaking, fundraising, and program development, primarily in the Pacific and Arctic regions.
"I am very pleased to welcome Orit and Ivan to Tides Canada," said Ross McMillan, President and CEO. "Their expertise and leadership in their respective areas are immense assets as we continue to build strong partnerships and strengthen our grantmaking and programmatic work across the country."
Orit was previously the Executive Director of the NIF Canadian Charitable Trust, a grantmaking organization focused on environmental, economic, and social justice initiatives among newcomer and Indigenous populations in Israel. Prior to that, she worked at Lord Cultural Resources where she led the strategy for the City of Chicago cultural plan. Orit holds a Master's in urban planning from the University of Washington and a BA from Harvard University.
Ivan worked most recently at the Gordon and Betty Moore Foundation, where he was Program Officer for the Wild Salmon Ecosystems Initiative, supporting efforts to protect wild salmon, their habitat, and the communities that rely on them in the intact watersheds of BC. He previously worked with Tides Canada to provide strategic and organizational support to conservation initiatives in BC's wild salmon ecosystems. Ivan holds a Postgraduate Certificate in economics from the University of London, a Master's in counselling from University of Victoria, a BEd in outdoor and experiential education from Queens University, and a BA in psychology from McMaster University.
About Tides Canada
Tides Canada provides uncommon solutions for the common good by helping Canadians secure a healthy environment in ways that promote social equity and economic prosperity.
To learn more, visit facebook.com/tidescanada, or Twitter @tidescanada.