News and Views
Media
News and articles on our work.
Sandra Inutiq joins Tides Canada as Senior Associate, Inuit Nunangat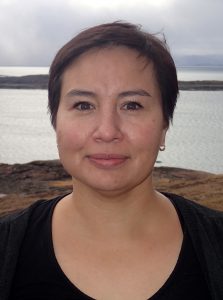 Tides Canada is pleased to announce the appointment of Sandra Inutiq as Senior Associate, Inuit Nunangat. Based in Iqaluit, Nunavut, Sandra will share responsibilities with Steve Ellis, Program Lead, Northern Canada in leading and expanding Tides Canada's northern programs.
Sandra's primary focus will be nurturing and developing grantee, strategic partner, and funder relationships in Inuit Nunangat. Her extensive knowledge and experience working in policy and law will be an asset as we continue to advance solutions to integrated social, cultural, environmental, and economic challenges in the North.
In Canada, "Inuit Nunangat" encompasses the four Inuit regions:
Inuvialuit in the northern Northwest Territories
Nunavut Territory
Nunavik in northern Quebec
Nunatsiavut in northern Labrador
"I am pleased to join the Tides Canada team," said Sandra. "I look forward to making a worthwhile contribution and building on our current work in Inuit Nunangat."
Sandra lived in various places in Nunavut—including Kangiqtualuk, Clyde River, and Iqaluit—throughout her childhood and youth. After graduating high school, she attended Nunavut Sivuniksavut, an Ottawa-based college program that serves Inuit youth from across Canada's north. Sandra returned to Iqaluit to take on a paralegal training position with the Department of Justice Canada and eventually went on to complete the Sivuliuqtiksat Management training program with the Government of Nunavut (GN).
Sandra received her law degree from Akitsiraq Law School in 2005, and in 2006, she became the first Inuk woman in Nunavut to pass the bar exam. She worked as legal counsel for the GN for over two years, and then for the Office of the Languages Commissioner as Director of Policy. Most recently, Sandra served as the Official Languages Commissioner for Nunavut.
"I am exceptionally pleased that Sandra has joined Tides Canada to help advance our work with partners in the North," said Ross McMillan, President & CEO, Tides Canada. "Sandra's deep knowledge and experience will greatly enhance our support for the aspirations of our community partners."
About Tides Canada
Tides Canada is a national charity dedicated to a healthy environment, social equity, and economic prosperity for all Canadians. It collaborates with both donors and social change leaders, offering a platform for on-the-ground efforts to create uncommon solutions for the common good. Since 2000, Tides Canada has built bridges between and among sectors, steering more philanthropy into innovative efforts to address tough environmental and social challenges.
To learn more, visit www.tidescanada.org, facebook.com/tidescanada, or Twitter @tidescanada.