Community and Donor Advised Funds
Mobilizing funds for community-led change
Advised funds are an efficient and flexible way for purpose-led charitable giving, and a great alternative to starting and maintaining a standalone charitable foundation.
Advancing equity-enabling philanthropy
MakeWay has a 20-year track record as home to hundreds of advised funds. Our fund partners include diverse individuals, families, foundations, and communities that want to access this powerful tool for philanthropy.
We seek partners who are excited to learn from community, who have the courage to share power, and who are active in their approach to social, environmental, and economic justice.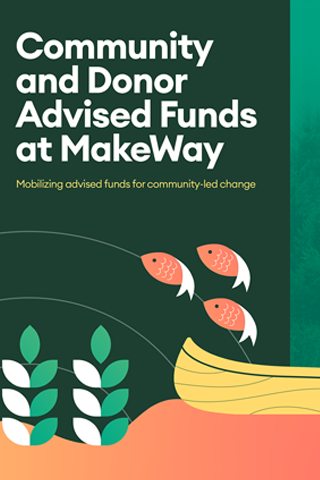 Donor Advised Fund (DAF)
With a Donor Advised Fund (DAF) your charitable giving is managed from one place, minimizing costs and maximizing impact. We take care of the administration and due diligence, provide philanthropic support and advice, and welcome you into a community that shares your passion for people and the planet.
Community Advised Fund (CAF)
MakeWay created Community Advised Funds (CAF) as an additional tool to evolve the traditional DAF model, shifting more power to community leaders. With a CAF, decision-making is governed by community-appointed advisors. The community defines the purpose and grantmaking plan, and donors make valuable financial contributions of support.
How are advised funds at MakeWay Unique?
MakeWay takes a unique approach to advised funds, leveraging them to enable nimble, transformative philanthropy and build momentum for community-led solutions.
1. Connecting to purpose
All new funds are aligned with one or more of our organizational priority areas, giving funder partners the opportunity to tap into MakeWay's deep relationship-based networks and experience.

2. Investing for positive impact
We believe all investments should generate positive social and environmental returns. That's why we take an active, critical, and transparent approach to our fossil-fuel free investment portfolio.
It's also why we launched the ImpactDAF: the first customizable donor advised fund in Canada to be 100% invested for impact.
3. Building healthy pathways between philanthropy and community
We are creating shared learning opportunities for our community of funder partners to shift philanthropy to be more impactful, growing together along the way. In the coming year we will: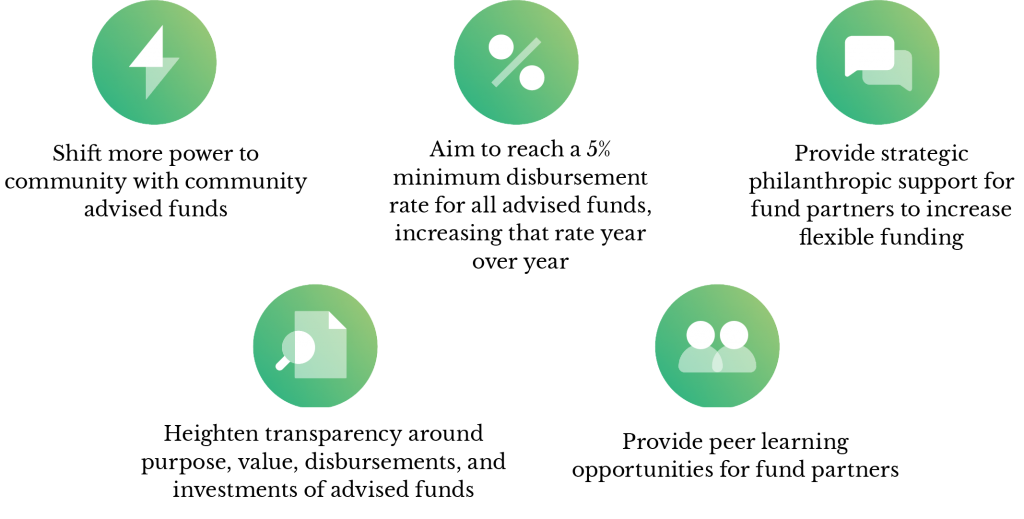 Explore DAFs and CAFs at MakeWay (click through to view fund purpose and donate).
Note: funds accepting public donations are highlighted in green.
To increase transparency, all grants from DAFs and CAFs are posted quarterly to our grants listing including: grant amount grantee name, and grant purpose
Types of Advised Funds*
*All of the below fund types can be advised by donors or communities.
Giving Fund
Invested Giving Fund
Impact Fund
Consider opening this type of fund if...
You are looking to make a high volume of contributions in and grants out.
You are looking for a long-term investment with a financial return, making between 5 and 10 grants from the fund each year.
You are looking for a customizable impact investing solution.
Time horizon
1-2 years
1-10 years
5-10 years
Minimum opening contribution
$5,000
$25,000
$1 million
Costs
Contributions of less than $1,000: 6% of their value
Contributions of more than $1,000: 1.75% of their value
Prorated monthly:
1.75% on first $500,000
1% on the next $2 million
0.5% on the next $2.5 million + investment management fees
1.75% annually based on the Fund balance + investment management fees
Learn more about Donor Advised Funds at MakeWay: